I think Season Three will always be my favourite season of the show. In my first watch of the series I came back into it at
Exogenesis
which was perfectly positioned just before the mayhem that would follow with the Earth conflict, Sinclair's return and the Shadow War.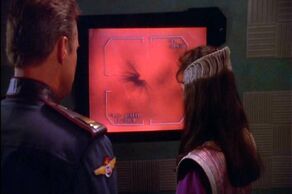 Just like
Season Two, The Coming of Shadows
, this season picks up from the events of
The Fall of Night
with the station under repair from the Centauri attack and bombing of the shuttle that nearly killed Sheridan. Races believe
Babylon 5
has been blessed after Kosh revealed himself in order to rescue Sheridan in the same incident.
We are introduced to Marcus in
Matters of Honor
who tells the crew of a Ranger training facility under threat on the Centauri border. Providing Sheridan and the crew with a new ship, the Whitestar, based on Minbari and Vorlon technology. The crew are able to evacuate the trainees and outwit the enemy.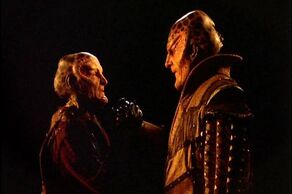 Meanwhile, Earth is investigating the Shadow vessel footage captured by Lt Keffer's gun camera and use the fear of a powerful, unknown alien race to further increase President Clark's control back home. Much of the beginning of the season remains lighter, less arc oriented stories until
Voices of Authority
where Clark's involvement in Santiago's death (
Chrysalis
) is realised when Ivanova interfaces with the Great Machine on Epsilon III. From this point forward, Earth heightens its paranoia and the reach of the Nightwatch grows.
By the time a Shadow ship is awakened on Ganymede and destroyed at Jupiter by Sheridan and Delenn aboard the Whitestar, President Clark declares martial law (
Messages from Earth
) and attacks the Mars colony for failing to follow suit shortly after. Earth ships begin fighting one another and
Babylon 5
declares independence along with other Earth colonies in protest. Delenn breaks the Grey Council and with the help of the Minbari Worker and Religious castes, brings ships to
Babylon 5
to offer protection (
Severed Dreams
).
After dealing with renegades on the station, there is a slight break in the action and hints at happenings on Centauri Prime in
Sic Transit Vir
.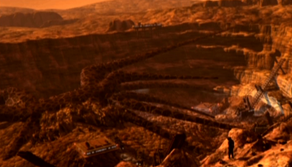 The crew team up with Bester and intercept a shipment of telepaths headed to be processors for Shadow vessels (
Ship of Tears
). Once the Shadows begin fighting in the open, Sheridan convinces Kosh to commit Vorlon forces to the fight, with dire consequences in
Interludes and Examinations
.
We learn the fate of
Babylon 4
and come to better understand the events from
Babylon Squared
, revealing who Valen really is and who is The One in the
War Without End
two-parter.
Dr Franklin must face his addiction and Lyta returns to the station to help test a theory that telepaths can hurt Shadow vessels (
Walkabout
). With that information, and a fleet of Whitestars, the fight is taken to the Shadows in Sector 83, the first major engagement and win for the League worlds and alliance in
Shadow Dancing
. Shortly after, a ghost from John's past arrives, his thought-dead wife Anna. She convinces him to go to
Z'ha'dum
where Morden and the middle-man, Justin attempt to bring him around to their way of thinking. Sheridan falls into a pit at Z'ha'dum and the Whitestar is destroyed detonating two nuclear devices in one of their cities...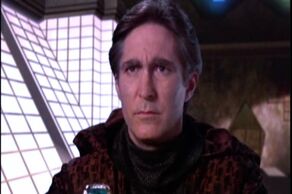 Point of No Return is definitely a rollercoaster event and no small feat considering show creator, J. Michael Straczynski wrote every episode for this season. The average episode score is much higher than the previous two at 7.29 with the lowest score of 6/10 being offered three times to
A Day in the Strife
,
A Late Delivery from Avalon
and
Grey 17 is Missing
. Not all 'bad' episodes, but just ones that didn't stand out so much for me. A 9.5 for Z'ha'dum as the seasons finale and cliffhanger is the highest of the season, the series and in fact the highest score I've given in a review. It's still the best cliffhanger I've experienced and a standout episode, even more so than some of my favourites in Messages from Earth, Severed Dreams, Interludes and Examinations and War Without End.
G'Kar has a realisation early in the series that changes his outlook and he struggles to keep the Narn on
Babylon 5
unified toward a common goal. He also finally learns the truth about the Shadows aiding the Centauri and Delenn's knowledge of it all. Londo goes for a ride as well, creating fear with the power he has gained and severing ties with Morden, only to re-establish them when Adira is killed. Londo takes revenge against Lord Refa for this action - but he is yet to find out that it was in fact someone elses doing.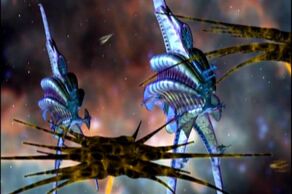 Marcus confesses an interest in Ivanova, even though she quickly becomes irritated with his presence early in the season. Lennier similarly confesses a love for Delenn, though he realises it can never be as she and John grow closer. Meanwhile, Vir has been busy during his assignment to Minbar and is reigned in by Londo and used as a tool to implement Londo's plan against Refa in
And the Rock Cried Out, No Hiding Place
.
Once again, the show has taken us to a different place from when we began and Season Four awaits and will continue to take us in different directions again...