On their return from Vulcan to Earth to face discipline for their recent actions, Kirk and crew find they must attempt a visit to Earth's past in order to save it from a destructive probe that is vapourising the planet's oceans.
In the past, they work to right a wrong and experience some of the archaic culture of the time...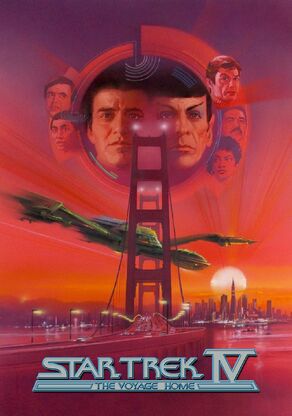 The Voyage Home is probably the most memorable film for any non Star Trek fans, often referenced as 'the one with the whales'. It is the most different of the feature films in that there are no battles or space conflicts, humanity is actually the enemy and it is sprinkled with a decent amount of humour throughout. Up until 2009 it was also the most successful film with non-Trekkers, probably due to it not relying too much on prior Star Trek knowledge.
Kirk and crew repeat their sling-shot maneuver (first seen in
Tomorrow is Yesterday
) and find themselves in San Francisco, 1986 on the hunt for two humpback whales, extinct by the 23rd century and what the alien probe is attempting to communicate with. After landing in Golden Gate Park under cloak, the crew must try to fit in, find currency, explore the public transport system, regenerate the Bird of Prey's power and construct a tank to hold the whales once they're located.
Kirk and Spock have luck in locating two humpback whales at the Cetacean Institute and meet Dr Gillian Taylor, their tour guide and whale lover. After conducting a mind-meld with one of the whales and subsequently being thrown out of the Institute, Spock believes the whales understand the mission and are willing to help.
Chekov and Uhura locate a nuclear vessel, the Enterprise, from which they'll extract protons for the Bird of Prey's power systems. They discuss a simple plan to Kirk to beam in and out that night before anyone can detect they were there. Meanwhile, Scotty and McCoy approach Dr Nichols of Plexicorp, posing as scientists from Edinburgh, about the creation of transparent aluminum - even though it could alter history. Sulu, outside talks with a Huey chopper pilot and starts asking questions about how to operate one.
Kirk asks for more information about the whales from Dr Taylor over dinner - going so far as to reveal his true identity and intentions from the future, which of course, Taylor doesn't believe. Finding out that the whales are due to be released much sooner than expected, Kirk leaves dinner to report back to the crew. At Golden Gate Park he asks Taylor how to track the whales but she refuses. He asks her to think about it, but not to take too long.
Chekov and Uhura's mission to the Enterprise is almost successful as the protons are collected but only Uhura is able to be retrieved by transporter. Chekov is detained by security personnel and later taken to hospital after a fall from the ship's deck. Dr Taylor returns to Golden Gate Park after the whales were released without her knowledge. She sees Sulu and Scotty assembling the whale tank in the cloaked Bird of Prey and begins calling out for Admiral Kirk. Brought aboard by transporter, the crew enlist her help to get Chekov out of hospital.
With Chekov healed and the crew reunited, Taylor sneaks aboard with Kirk to go with them. They track the whales off Alaska and confront a whaling ship before beaming them aboard. They then return to the 23rd century and crash land in San Francisco bay, saving the Earth once the whales begin communicating with the alien probe.
Kirk and crew face the Federation Council for their recent actions. Following the saving of Earth, only Kirk is reprimanded for disobeying the direct orders of a Starfleet Commander. He is demoted to Captain and the crew are returned to their ship. In Spacedock, while debating where they are headed, McCoy suggests they'll get a freighter while Sulu has his hopes on Excelsior, much to Scotty's disgust. As their shuttle takes them past the Excelsior, a familiar ship is sighted - the Enterprise, NCC-1701-A...
The Voyage Home is a nice film that is more about the crew and our future than it is about explosions and battles. The mix of humour and contemporary Earth make for an interesting film that most can relate to. It is only aged in 2013 by references that no longer apply - eg, Chekov asking a San Francisco Police Officer where the 'nuclear wessels' are, but we can still laugh at Spock's interaction with Gracie the whale, or Scotty trying to work an old Macintosh computer.
Leonard Rosenman helms the musical composition with a different take on Star Trek scores. While some of the familiar themes remain, some of his flourishes in Chekov's escape from Enterprise security and others are definitely and noticeably different. Leonard Nimoy's direction remains positive although some of the acting from new cast members seems wooden compared to our seasoned crew.
The premise of an alien probe, travelling across the galaxy to communicate with whales (that have been extinct for 200 years) is a bit strange when over-analysed, but as Spock himself mentions to McCoy about 'human arrogance', perhaps it is something we merely don't understand :P
I was expecting to give Star Trek IV a 4 star rating, but instead it ranks equal with
Star Trek III
. It's a fun movie to watch and it completes the trilogy started in
The Wrath of Khan
.
My rating: 7/10 or 3.5 stars
Eleonor's rating: 5/10 or 2.5 stars