There is no episode in the Babylon 5 series with this title, but I was fortunate enough to have been recommended to read this novel by some good friends and am very thankful they did so.
To Dream in the City of Sorrows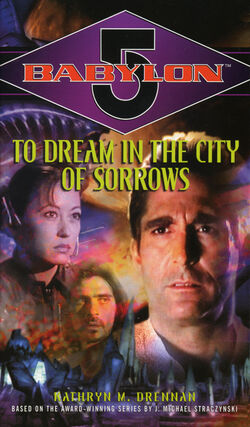 What happened to Jeffrey Sinclair after he was reassigned from commanding
Babylon 5
? What happened to Catherine Sakai and their plans to get married? To Dream in the City of Sorrows answers those questions and more.
It felt appropriate to start reading this novel after we finished Season One with the finale,
Chrysalis
. The novel (while told from a future point in the story at 2260) is mostly based amongst the events of 2259. As we were watching through the second season, I was seeing parallels in events between the novel and the series. We see Sinclair learning about the coming darkness and sending his messages via Ranger to Garibaldi and Delenn (
The Coming of Shadows
) and we find out that Sakai visited
Babylon 5
during the crisis with Sheridan and the Streib (
All Alone in the Night
).
We learn of Sinclair's difficulty adjusting to life on Minbar with no one telling him exactly what he needed to know and no one allowing him contact to Earth or Babylon 5. Amidst all this, he has to deal with Neroon and the uncooperative Warrior Caste who dislike humanity and appear to take it out on Sinclair and the other humans who come to Minbar to join the Rangers.
We witness Sinclair's journey to becoming Entil'zha, leader of the Rangers, but then having to deal with Vorlon Ambassador Ulkesh. Vague enough for a Vorlon, but so different to Kosh who we have come to 'know' in the series and in this book.
We learn more about Sakai and her work, but she discovers something quite strange and ominous in her travels. When she finally gets in contact with Jeff again, she decides to stay with him on Minbar and train to become a Ranger.
The third piece of the story lies with Marcus Cole, a businessman whose brother, William has joined the Rangers. William visits Marcus to get him to come to Minbar, but their colony is attacked and William dies. Marcus then joins the Rangers and with Sakai and Sinclair, become the team to take part in an important mission to Sector 14 - with unfortunate consequences.
This is a great book and it fills in the story of Sinclair following his departure in 2259. Knowing where his path will take him later in the series, I will have to let Eleonor read this a little later, since the Prologue and Epilogue occur towards the end of 2260. But aside from those two parts, this book is worth reading throughout the series' second season - with pretty much no spoilers for the events that are coming.
Rating: 8/10