Season Two progresses and we reach the title episode, The Coming of Shadows where things are about to be turned on their heads.
The Coming of Shadows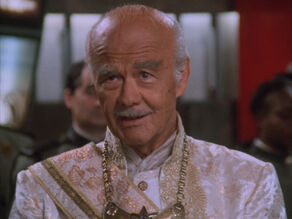 The Centauri Emperor travels to
Babylon 5
to send a message while Londo and Refa take advantage of his ailing health in a move that jeopardises everything that has been worked for so far. Amongst all this, Garibaldi talks with a strange man who has been following him.
This episode is an emotional ride as we go from one situation to another. The Emperor's arrival is a great boost for Babylon 5 but G'Kar is not impressed. Amidst all his hatred for the Centauri, the real shame of things is shown when he is made to realise why the Emperor wanted to come to the station. Sadly, that is all completely undone by the actions of Londo and Refa, capitalising on their own hunger for power and making a call to Mr Morden once again.
The galaxy is a different place by the end of this episode that includes some great moments between characters, some excellent special effects, JMS noted the use of real space images from the Hubble telescope and the return of an old face.
Rating: 7.5/10
I fear that in attempting to write a review without spoilers, I may have overlooked the obvious. This and the conversation in the comments section for this review with a good friend of mine has made me realise that this episode is highly underrated by the numbers I posted above - particularly when compared to more 'trivial' episodes we have already seen this season that scored relatively high in comparison.
We already know this is an important episode as it shares its title with the over-arching season we're viewing. It is a definite point of change in the
Babylon 5
universe and one that brings a lot of pain and sadness with it. While it may be a bit hard to sympathise with either the Narn or the Centauri at times, the onset of war between the two of them is so tragic because we know how close we all were to seeing peace. Instead, the Emperor's trip almost amounts to nothing because of the actions of those who want power and have been touched by darkness.
The other important sequence from this episode lies within Londo's dream. Some of the images are self explanatory, the flashes from
Midnight on the Firing Line
and the 'great hand, reaching out of the stars', as referenced in
The Geometry of Shadows
. But there are other scenes in there that should at least be of interest, or worth noting in the back of your mind.
(Adjusted) Rating: 8.5/10 - this episode
is
a standout.
GROPOS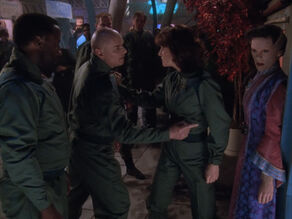 A quiet night turns into mayhem when an Earthforce destroyer arrives with 25,000 troops looking for a stopover at
Babylon 5
.
Lead by General Richard Franklin, father of Dr Stephen Franklin on Babylon 5 the troops are en-route to Akdor, a planet bordering Narn and Centauri space in order to secure the planet from a rebellion.
The presence of the troops on the station causes uneasiness in the general population, including a confrontation with Ambassador Delenn and many fights in the station's social areas. The arrival of Richard Franklin brings out more of Stephen's past and we see that his father is of a much different way of thinking - even reflecting Earth's recent anti-alien sentiments.
Garibaldi almost gets lucky with 'Dodger' but manages to stuff that little relationship up as well, while we learn little bits here and there about the crew, including Garibaldi's father serving in the Dilgar War, Sheridan being posted on Akdor earlier in his career.
Rating: 6.5/10