Season Two continues with these next two episodes which includes one of the funniest of the series.
The Geometry of Shadows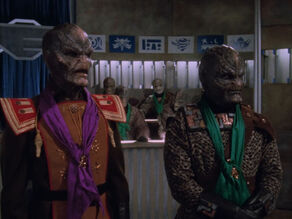 Ivanova is given the task of settling a Drazi conflict while Londo tries to gain an audience with a group of techno-mages to further his influence and ambitions back home.
The Drazi conflict forms the humourous side of this episode which Ivanova must deal with as part of her promotion to Commander. The idea that people would fight for a meaningless piece of coloured cloth is funny, but as the Drazi argue, how is it any different to a flag?
In the meantime, we meet Lord Refa, who informs Londo of trouble back on Centauri Prime and how Londo has been noticed by the right people. This prompts Londo to seek an audience with a group of techno-mages, passing through Babylon 5 on their way beyond the rim - fleeing an approaching darkness.
There are some good moments in this episode, including Ivanova's broken leg which was worked into the script, Garibaldi's return to form and more signs that something bad is coming. For those with the DVD collection, make sure to listen to the audio commentary provided by Bruce Boxleitner, Claudia Christian and Jerry Doyle :)
Overall Rating: 7/10
A Distant Star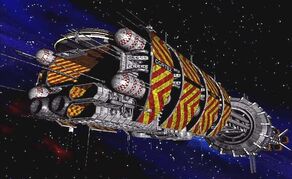 An old friend of Sheridan's comes to Babylon 5 to re-supply his Explorer ship and Dr Franklin imposes a diet (food plan) on the senior staff. Meanwhile, the Explorer ship hits trouble in hyperspace and several B5 fighters encounter more of those hellish, black ships...
We get a little bit more in John Sheridan's back story with the arrival of Jack Maynard at Babylon 5, to replenish supplies for his ship, the Cortez.
To assist in their recoveries, Franklin puts Garibaldi and Ivanova on a food plan to help them and includes Sheridan as well.
En-route to her next mission, the Cortez is thrown off course in hyperspace. A distress call is received by Babylon 5 and a rescue is mounted using Starfury's from Zeta Squadron. During the attempt, Commander Galus, Zeta Squadron Leader is killed when a black, sinister alien ship collides with his and Keffer's. Keffer is able to direct the Cortez to the jumpgate and find his own way home eventually - and is promoted to Squad Leader.
A Distant Star provides us with some more back story to Sheridan and also moving along the storyline of the strange alien ship sightings. They seem to be becoming more frequent and more dangerous. Meanwhile, the Minbari population on Babylon 5 seem to be reacting to Delenn's transformation.
My only negative from this episode comes from the DVD transfer that omits the scene where a Starfury on patrol is completely dwarfed by the approaching Explorer ship. Due to the cropping of top and bottom of the effects shot, on DVD, the Starfury is almost unseen at the bottom as the Cortez passes by. Oh well... it's a ship geek thing :P
Overall Rating: 6/10.