So here we are at the final two episodes of Signs and Portents, the first season of Babylon 5. It doesn't seem like we've been watching it for that long (to me)!
The Quality of Mercy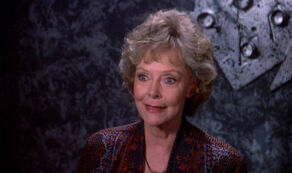 Dr Franklin investigates an unauthorised practitioner in DownBelow with a strange healing device while a convicted murderer is sentenced to the death of his personality and Londo and Lennier 'hit the town'.
I realised that I had forgotten much of what actually happened in this episode as soon as it started. With Ivanova checking in on Franklin's DownBelow medical practice to start with and then the conviction of Karl Mueller for murder. I did remember the strange alien healing device and Londo and Lennier's catch-up (but thought that was in a different episode).
Overall it provides a decent mix of suspense, action and humour. We also learn a lot about what goes on in the B5 universe, from the law as it applies to murderers and mind wipes, when the death penalty can be used and the state of DownBelow on the station, and we also learn that the Minbari have violent reactions to alcohol, the Centauri have a very different reproductive system it seems and perhaps that Security should be better equipped when transferring a fugitive.
I was also surprised to see Damian London playing the Centauri Senator at the beginning of the episode. A very uneventful scene that anyone would forget, but I know we'll be seeing that guy again in the future - it's just kinda nice to see him so early in the piece - a Senator no less!
While the stories themselves don't really hold any threads of importance to the bigger issues to come, we are introduced to something very important that will be seen again. For that, this episode gets a rating of 6.5/10.
Chrysalis
The Season Finale for Signs and Portents. Garibaldi embarks on an investigation after one of his informants dies claiming that someone is about to be killed. Meanwhile, Delenn meets with Kosh before preparing a Chrysalis within which she enters. As 2259 comes upon the crew, a dark cloud comes over the galaxy with the destruction of a Narn starbase in Quadrant 37 and the death of Earth Alliance President Luis Santiago with the destruction of Earthforce One.
This episode was great, even in a re-watch. From the very beginning we know something isn't right and Garibaldi's investigation takes us through to the realisation that something extremely bad is about to happen, and unfortunately that our crew can't do much about it. The scene of Earthforce One at Io is so perfectly put together and combined with Christopher Franke's 'Requiem' music still had me tearing up at what just unfolded. Brilliant.
In the other stories, Morden returns to Babylon 5 and offers assistance to Londo. The first step on his slippery slope that sees him attain greatness back home, but at a huge price that alerts G'Kar to the presence of another race - so powerful that they wiped out 10,000 Narns, some of their best warriors at their starbase in Quadrant 37.
Meanwhile, Delenn's 'device' that she has been constructing in her quarters for some time throughout the season is finally complete after she meets with Kosh - and he reveals something to her that confirms her actions. What did she see? What was the question she had Lennier relay to Kosh 'word for word'? What is happening to her in the Chrysalis?
So overwhelmed with what happened to President Santiago, Sinclair misses his appointment to meet with Delenn and find out what she was willing to share with him. But, amongst all this, he was able to propose to Catherine Sakai and share the news with good friends Ivanova and Garibaldi before all hell broke loose.
A truly fantastic episode and a worthy cliffhanger. Even Eleonor got caught up in the events and seemed to be in disbelief at what happened to Earthforce One at Io.
9 out of 10.
I don't know what it could do to be a perfect 10, but a 9 isn't to be sneezed at.
So ends Season One. I have enjoyed watching through it again, picking up different pieces that I had forgotten or thought happened in a different order. I also have a renewed appreciation for Commander Sinclair. A strong character and a hell of a strategist. I asked Eleonor for her thoughts on the characters and she likes most of them, including Sinclair, Franklin, Garibaldi and Londo while not so much a fan of Ivanova (yet?) :)
I am looking forward to Season Two (will probably get to it once I finish Firefly), for as Kosh stated: 'And so it begins...'