Grail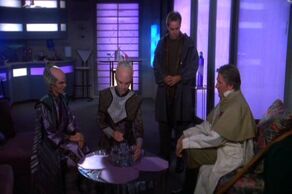 Aldous Gajic, a human seeker arrives on Babylon 5 in search for the legendary 'holy grail'. Having searched every place on Earth he believes he must take his search to the stars and meets with the various Ambassadors on the station for their help.
Meanwhile, a lurker known as Jinxo is finding himself in trouble in Downbelow and learns that Deuce, who he owes a lot of money to has a tentacled alien with the appearance of Ambassador Kosh on his side killing people who would act against him.
This is a story that doesn't take the arc in any lengthy directions but one about faith and how different people perceive Aldous' search. We see the Minbari treat him with great respect, our own humans think it's a bit of a joke and a waste while the Centauri look at the inconvenience of it all. We don't see G'Kar in this episode and we don't get to see how Aldous' meeting with Kosh might have gone unfortunately.
On the other side we learn something about the judicial system on Babylon 5, seeing the courtroom, including a civil suit between a human and a Vree, we see one of the most fascinating looking aliens to grace sci-fi screens so far (once the truth is revealed at least) and we learn a little bit more about the previous four Babylon stations.
It's one of those episodes to makes you think a little bit, so I'll give it an Overall Rating of 7/10.
Eyes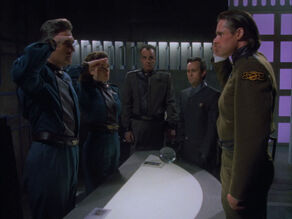 An Earthforce Colonel and a Psi-Corps Telepath come to Babylon 5 to interview the Babylon 5 command staff while Lennier assists Garibaldi in his project of assembling an old Earth motorcycle.
Colonel Ari Ben-Zayn begins asking B5 staff and crew questions while undercover. When finally discovered, he blasts into a full blown interrogation intending to discredit Commander Sinclair for his actions in the recent year over incidents including Ragesh III, the dockers strike, the sabotaged cobra bays, Deathwalker and death of a Psi-Cop (among others). Alongside is telepath Mr Grey (played by that actor from so many Star Trek series, Jeffrey Combs) which shows us that things are changing back on Earth with the Psi-Corps being given more power in the military.
The episode touches on Ivanova's dislike of the Corps once again as we get to see her mother in a dream and are left wondering if Susan may be hiding something. On the lighter side of things, we see Garibaldi working on a motorcycle and enlists Lennier's help in putting it together.
A lot of information and back story in this episode which makes it slightly important. A lot is covered from past events and a lot is going on back home and on Mars that we may need to pay attention to.
Overall Rating: 6.5/10