The Parliament of Dreams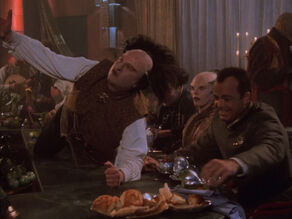 Babylon 5 is host to a week long series of religious festivities from the various races inhabiting the station. Meanwhile, G'Kar's life is threatened by an old enemy.
I thought this episode was slightly more important than it turned out to be. Aside from the introduction of G'Kar's long term attache, Na'Toth and the arrival of Delenn's aide, Lennier, much of the remainder of the episode focusses on the problem G'Kar faces from an old enemy.
Catherine Sakai, a woman from Sinclair's past arrives on the station for business as well, but this ultimately leads the two to reunite and get back into their old habits once again.
After the accident that would kill G'Kar's first aide, Ko D'ath this episode provides a decent introduction to Na'Toth who assists G'Kar in finding his would be assassin. Lennier takes on a much smaller role here but his time will no doubt come.
The episode shows us a Centauri feast and celebration, typical of their culture as we have come to know them at this point, a very serious and ritualistic Minbari demonstration and an introduction to the many religions of Earth when it becomes Sinclair's turn.
The crew and the Babylon 5 universe are all starting to become familiar and comfortable now as we watch through and I think Eleonor is enjoying the show and its lighter moments.
Overall Rating: 6.5/10
Mind War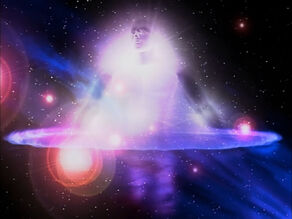 The Psi-Corps send their best agents to track down a rogue telepath who takes refuge on Babylon 5. Meanwhile, Catherine Sakai heads out to chart a remote planet and encounters something that nearly kills her.
This series is based on a 5 year arc and there have already been seeds planted that will come back later on. Mind War is the first episode where I'm looking and seeing things that will have larger implications further along the story - of course I am spoiled by my knowledge of what is to come and what nearly was, regarding Talia Winters' storyline.
We get to learn a lot more about telepaths and Psi-Corps in this episode, meeting Alfred Bester and his colleague and seeing just how superior some telepaths believe they are. Their arrogance clearly rubbing the non-telepathic crew the wrong way from the very start, with Ivanova's reasons perhaps the only ones that are clear to us for the moment. Ultimately, the rogue telepath is only trying to do what is right, but wants to see his love, Talia before that happens.
The minor story has Catherine Sakai charting a distant planet, Sigma 957 for traces of Quantium 40. She goes against the wishes of G'Kar, as the Narn are among the races disputing the space it sits in. Once there, she encounters a large object that renders her ship nearly inoperable and on a trajectory to burn up in the planet's atmosphere. Only with G'Kar's help is she able to return home.
It's in the moments when G'Kar talks with Sakai after she returns from Sigma 957 that we see a less angry G'Kar. Instead we see more of what he is really made of and talking as I'm used to hearing him from later episodes and monologues he hasn't yet spoken!
A worthwhile episode for both storylines and the developments to come from here. Overall Rating: 7/10