The Cloud Minders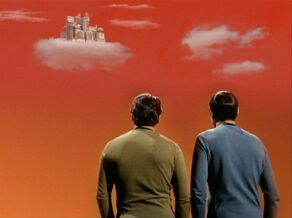 Kirk and Spock arrive at Ardana to pick up supplies of zenite to assist with a botanical plague threatening Merak II. Whilst there, they are attacked by terrorists and get caught up in a struggle between the workers and higher classed society in Stratos, a huge city floating in the clouds.
Our duo soon discover that there is severe inequality on Stratos where the troglites are being forced to work endless hours in the mines for the benefit of the more educated population living in Stratos. The troglites don't gain from any of their work.
One of the terrorist leaders manages to kidnap Kirk, but he manages to turn things around and while trapped in one of the mines, has the High Adviser beamed to their location so he can witness the conditions first hand. Meanwhile, Spock develops an interest in the High Adviser's daughter, Droxine.
This wasn't a bad episode, the message was clear from early on but done quite well. My only nitpick would be that Spock appears slightly out of character here in sharing intimate details with Droxine and his appreciation of the Stratos society. Some of the fight scenes could have been improved but this may have been due to the poor budget available for the series at the time.
Nevertheless, a reasonable episode from what feels like a mediocre season.
Overall Rating: 7/10
The Savage Curtain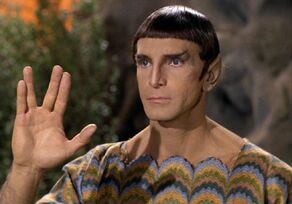 While exploring a desolate planetoid, the
Enterprise
encounters President Abraham Lincoln floating in space, talking to the crew. He is given a full tour of the ship before bringing Kirk and Spock with him to the planet's surface where Spock meets the legendary Surak. Soon enough, a creature in the form of a steaming dung heap (later informed to be hot lava) pits the four 'peacemakers' against four of the universes most renowned adversaries including Genghis Khan and Klingon legend Kahless the Unforgettable, who is apparently very good at doing impersonations.
Cue a revisit to the storyline from the Season One episode
Arena
, with four vs four and you have this episode sorted out. The difference being that a portion is taken up with President Lincoln being offered a tour of the ship with another look at the Original Series dress uniform on our senior staff members.
I will say this episode was good to introduce us to other interesting figures through history, notably Kahless (who would be mentioned in the remaining Trek series) and Colonel Green from Earth's 21st Century (would come back in Enterprise). What's not so convincing were the fight scenes (again) and how good eventually managed to win over evil, even when outnumbered two to one.
Not sure I liked this episode so much, so it gets an overall rating of 5.5/10
There remain two episodes for the series, it will be interesting to see how it all ends...