Time to review two more episodes from The Original Series. It's interesting watching them in a different order than I remember. But most of the inconsistencies are starting to become less noticeable the further along we go.
Mudd's Women

I remember this episode not for the women, but for the character of Mudd, Harcourt Fenton Mudd. I just remember him as an annoying character and I could see why in the re-watch. Yet, he had some comedic traits that had been missing from recent episodes as well.
So the Enterprise is pursuing an unknown ship which trips up in an asteroid field and the crew are beamed aboard. Three ladies and Mr Mudd, aliasing as Leo Walsh. It doesn't take long for his cover to be blown though while the women seem to have certain control over the male members of the Enterprise crew. We find out soon enough that all is not as it seems.
Meanwhile, the Enterprise is limping along as the pursuit of Mudd's ship has stricken her lithium crystals and she needs replacements, fast. Mudd, becoming aware of this hatches a plan to offload his women to the miners on Rigel XII and allow himself freedom in order for the Enterprise to be repaired.
In the end, it sort of goes pearshape for Mudd. The miners get their girls and their magical anti-aging drug and Kirk gets his crystals to get the Enterprise under way again.

Remastered again in all its excellence, this was the first episode where we see some of the banter that becomes more common between Spock and McCoy (right at the end).
Overall Rating: 6/10

What Are Little Girls Made Of?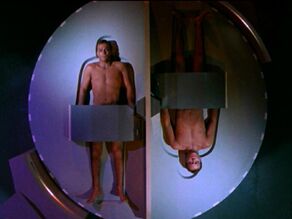 The
Enterprise
and her crew arrive at Exo III to investigate the disappearance of Dr Roger Korby whose last message was received over 5 years ago. Korby was also engaged to Nurse Chapel at this time, so she's on the bridge awaiting any news.
Korby transmits a message to the ship and a landing party beam down to the surface to meet him. Two red-shirts almost instantly die and one of Korby's men is revealed to be an android. Soon enough we find out there are more androids and Korby is not who he appears to be either...
Korby tries to persuade Kirk to stay and observe before reporting to Starfleet. Kirk is resistant given the measures Korby has gone to. Korby eventually creates an android clone of Kirk which he uses to send to Enterprise for his own purposes. None of this matters as Spock detects the clone and Korby's plan comes undone. In the end, Korby is revealed as an android and all of them are destroyed.
Quite an episode. Nothing too memorable out of it except character building for Nurse Chapel and some other characters. It's a bit sad that everyone who was originally on Exo III were androids and dead by the end of the episode! Though we do get to see some more Kirk fighting techniques!
Overall Rating: 5/10