I'm just going to quickly note that I found out today that
Dark Skies
is coming out soon on DVD! As part of my old sci-fi revival, I think I'm going to have to get my hands on this set and enjoy watching through it all again!
Where No Man Has Gone Before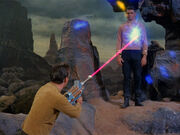 So, the third episode in our 'Trek' through the Original episodes brings us to what I remember being the original pilot. Oh how interesting it is to rewatch because it was almost completely different to how I originally remembered the episode!
The
Enterprise
beams aboard an old beacon from an Earth ship, the
S.S. Valiant
. Almost immediately it begins transmitting and we're thrown into what I figured to be a very intense moment as the ship is put on Red Alert!
The
Enterprise
reaches the edge of the galaxy and at that point, several crew members are injured, or struck. One, an old friend of Kirk's, Gary Mitchell is the most obviously affected and begins showing signs of kinetic abilities as the episode progresses. Ultimately he begins to take control, take lives and eventually a showdown between he and Kirk takes place on the planet Delta Vega.
This is a good episode, a character builder for Kirk's character, forced to decide the fate of his long time friend. We also see more of the comeradery between Kirk and Spock in this episode, and Scotty makes an appearance in the transporter room while Sulu is seen in a blue uniform!
My main question from this episode is; what on Earth was up with Spock's makeup and eyebrows?! He looked pretty ridiculous in this episode! I also didn't get why he had to yell out the commands and readouts he got but I guess it added to the suspense in the scenes where the
Enterprise
was crossing the Galactic Barrier?
I think the writers also played too much into letting the audience know that Spock wasn't human and that he had no emotions. I think every cast member made a comment about it at some point in the episode!
Nevertheless it's a fun episode. We get to see Kirk fighting the enemy amongst a polystyrene set and roll about with that huge phaser while getting his shirt ripped! The blu-ray remaster again is flawless in showing up the flaws of the set and makeup design of the time. But it's all part of the charm. I'm still watching with the new Special FX which showed off the new look they gave to the Galactic Barrier and Delta Vega.
Overall Rating: 7/10
I still have a soft-spot for the original pilot! haha :)